Agenda
Créer un événement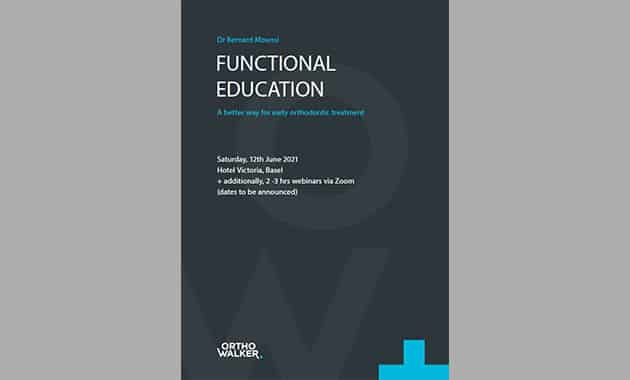 FUNCTIONAL EDUCATION with Dr. Bernard Mounsi
Organisme : Ortho-Walker AG
12 juin 2021
Basel
This course shall provide you with all the necessary information for an immediate
and successful implementation of functional education in your practice.
Offering your patients your best care is the most simple and honest way to grow your practice.
This 1-day course will be completed by 2 – 3 interactive webinars via Zoom
(duration of 1 hour, where questions can be addressed directly to Dr Mounsi and Frédéric Bernard, Product Manager at OrthoPlus)
CONTENT
– From Tweed to Fränkel: a short history of the growth pattern concept in orthodontics
– Indications: early treatment according to the AAO (when to start, average age of patient, goals of treatment, duration)
– Operating Instructions:
• Appliance selection and instructions of use
• Explaining the aim of functional education
• Breathing disorders, swallowing education, and sequencing the education in severe functional disorders
– Treating cases only with functional education? Analyzing the results of phase one treatments – Combining Orthopaedic treatment and functional education for a better outcome in skeletal class II, skeletal class III, and transverse discrepancy
– Two phase treatment and functional education (most efficient preparation for an orthodontic treatment)
– (in-depth) Diagnosis: first and second consultation
– Treatment – the typical sequence – Follow up Management (how often to meet, how long, types of outcome)
– Modern orthodontic with the help of functional education (Phase I as a preparation to the bracket phase, Functional education during phases II)
– How to implement functional education in your office (Key Points such as photographs, organization of the practice and the team, role of the practitioner and of the assistant, simple communication with GPs and parents, etc.)
This course shall offer you tips and tricks for an immediate and successful implementation of functionl education in your practice.
Basel